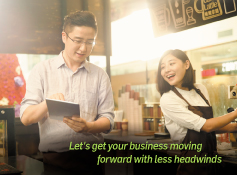 Online application for Special 100% Loan Guarantee has been launched!
Apply online to enjoy fabulous privileges.
Know More
Your Priority for Financing as an SME Owners:
Helping SMEs obtaining financing by a guarantee provided by the HKMC Insurance Limited ("HKMCI").
SME Financing Guarantee Scheme ("SFGS")¹: 
Financing solutions to help you enhance the productivity and competitiveness amid dynamic business environments.