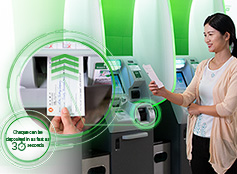 Up to HKD20 million per cheque deposit
Unlimited times of deposit. Use Cheque Deposit Machines with just 2 simple steps to save time!
Know more
Automated Banking Centre
In addition to full-service branches, we have also set up numerous 24-hour automated self-service banking centres. With the support of ATMs, instant balance machines, passbook update machines and deposit machines, customers can perform major banking functions any time of the day.
Deposit Card
With deposit card, you or your delegates can make deposit via our ATMs, "Quick Cheque Deposit" and "Quick Cash Deposit" machines
Avoid queuing at branch counters, saving time and administrative costs
Eliminate key-in errors as no manual input of account number or PIN is required
Minimal risk of monetary loss due to card loss or leakage of sensitive information, as the card does not support a withdrawal function
Multiple cards can be applied for each account, allowing various staff members to manage deposits of the same account
ATM Cards
With your Hang Seng ATM Card, you can access up to 3 Hang Seng HKD accounts at over 1,000 Hang Seng Bank and HSBC ATMs across Hong Kong.
Services include cash withdrawal, account enquiry, credit card payment and more. You can also transfer funds between Hang Seng Bank and HSBC accounts as well as pay selected bills through our ATMs.
Outside the Hong Kong Special Administrative Region, you can get cash directly from your accounts at ATMs worldwide through the HSBC and UnionPay ATM networks.