Mobile Security Key
With 3 simple steps, you can turn your mobile devices into a mobile Security Device. With the same level of security as a physical Security Device and dual authentication feature, managing your finances is secure as ever with Mobile Security Key
Security Device
To ensure you enjoy high-quality services in a secure manner and to protect your company's information and online transactions, a security device is required for logon to Business e-Banking and for authorising the submission of some online instructions.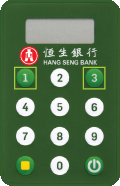 Automatic Logoff

If a banking session is unattended / inactive for a certain period, it will be terminated automatically to protect your interests. To help prevent unauthorised access to your bank account and related information, we strongly advise you not to leave e-Banking operation unattended if your banking session is still open.

Delegation with Control for Every Transaction
To better control the company account activities, the Primary User(s) is/are authorized to perform management control function singly or jointly. Primary User(s) can administer the settings of e-banking services, products and accounts by assigning access rights and different daily transaction limits of each user.
Mobile Reminders
To comply with the Hong Kong Monetary Authority's requirement and further protect your online banking security, the Bank will send Mobile Reminders (by way of SMS, E-mail or WeChat messages) to the final authoriser of high risk transactions. You are required to provide a valid mobile number to us for receiving these SMS notifications.
High Risk Transactions shall include but not limited to:
Transfer to an Unlisted Beneficiary
Transfer to Non-Registered Beneficiary 

Add Registered Beneficiary
Amend Registered Beneficiary
AutoPayment
MPF and Payroll Services
Set Up eDDA
Update Contact Information
Bind Your Business e-Banking Profile in WeChat
Enable Mobile Security Key
Enable Biometric Authentication

Introducing "EV SSL Certificate"
You will notice the URL address bar area at the top of your browser when you visit Hang Seng Business e-Banking, the name "HANG SENG BANK LTD" will be displayed either on the URL address bar or near the top of the browser. This indicates that you are accessing the genuine Hang Seng Business e-Banking Service.
To maintain a smooth access to our Business e-Banking services, if your web browser is Internet Explorer 10 or an earlier version, you are recommended to:

Update to a newer version of Internet Explorer, Microsoft Edge, Firefox or Safari, or
Use the latest version of Google Chrome