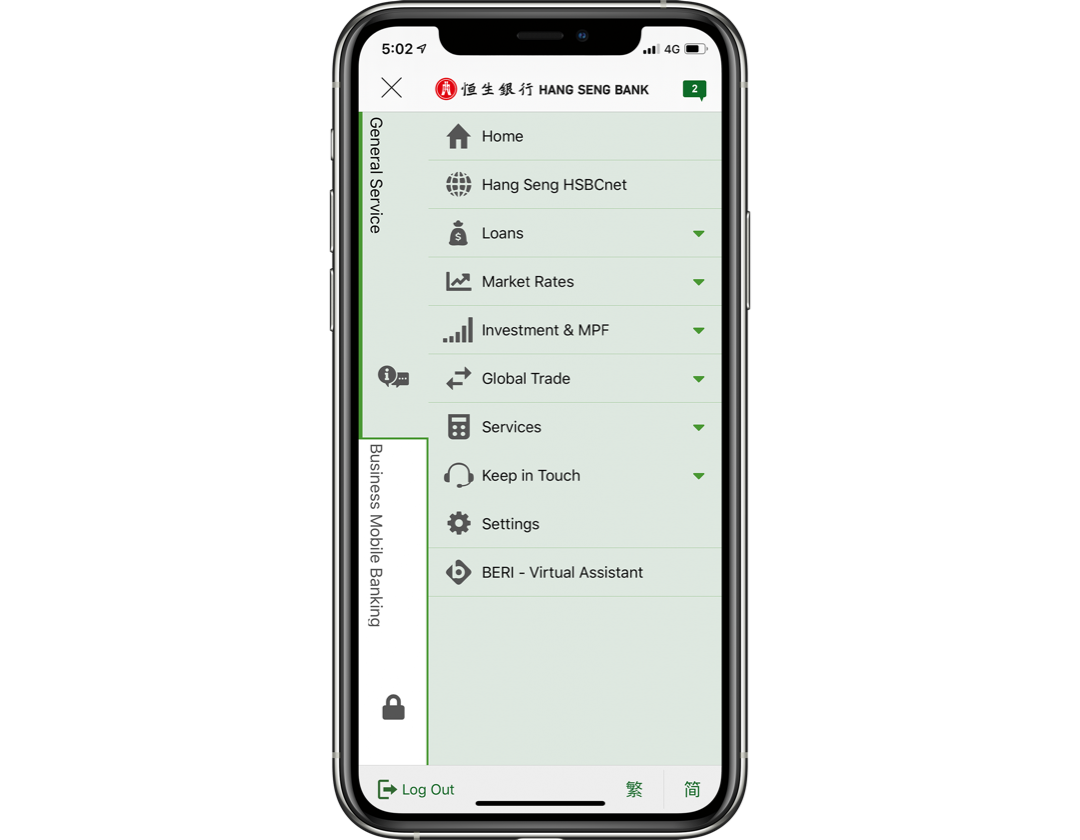 Access to business banking services on your mobile device
Gain better control anytime, anywhere.

Key benefits:
Log in to key business mobile banking services

One-stop-shop service for Hang Seng HSBCnet, loans, FX, Insurance, MPF, track trade-related documents, property valuation, locating Business Banking Centres, and business account opening. 

Support multiple mobile device platforms (iOS, Android) 

General Services Overview 
A Global Online Commercial Banking platform
Total visibility of your global finances
Track transactions in real-time
Simple creation and authorisation of payments
Round-the-clock support
Next level security
Seamless integration with your systems
SFGS
SME Financing Guarantee Scheme ("SFGS")
Help SMEs obtain financing by a guarantee provided by the HKMC Insurance Limited (HKMCI)
Provide financing for working capital and acquisition of equipment or assets for business operations
Business Loan

Convenient application process
Flexible financing options

No interest on unused credit limit
Foreign Exchange 
Round-the-clock trading

Real-time Foreign Exchange (FX) service
Market Info
Business Travel Insurance
 Comprehensive business travel coverage for employees
MPF
Prepare and submit MPF remittance statements

Trade DocTrack
Enable you to track your trade-related documents sent to overseas banks by Hang Seng Trade Services through DHL
Property Valuation
Find out the value of a property in Hong Kong
Contact Us

Provide 24-hour Business Partner Direct phone numbers for Hong Kong and Mainland China
Contain links to Virtual Assistant BERI, making an appointment, our email address, Business Banking Centre locations, and Trade Services locations
Business Banking Centre
Display the location and contact details of Hang Seng Business Banking Centres
Make an Appointment
Make an appointment with Hang Seng Bank to open a business banking account or enjoy other banking services
Trade Services Location
Display the location and contact details of Trade Services
To borrow or not to borrow? Borrow only if you can repay!
Foreign Currency Risk
Foreign exchange involves exchange rate risk. Fluctuations in the exchange rate of a foreign currency may result in gains or losses in the event that the customer converts HKD to foreign currency or vice versa.
RMB Currency Risk
Renminbi ("RMB") is subject to exchange rate risk. Fluctuation in the exchange rate of RMB may result in losses in the event that the customer subsequently converts RMB into another currency (including Hong Kong Dollars). Exchange controls imposed by the relevant authorities may also adversely affect the applicable exchange rate. RMB is currently not freely convertible and conversion of RMB may be subject to certain policy, regulatory requirements and/or restrictions (which are subject to changes from time to time without notice). The actual conversion arrangement will depend on the policy, regulatory requirements and/or restrictions prevailing at the relevant time.
(1) The Business Mobile Services are free of charge, but banking and transaction charges may apply when you conduct transactions via Hang Seng Business e-Banking, Hang Seng Business Mobile Banking, Hang Seng HSBCnet or Hang Seng HSBCnet Mobile. Please refer to the Bank's prevailing scale of fee and charges. For details, please visit www.hangseng.com or our branches. In addition, you are responsible for any fees and charges which may be levied by your telecommunication service provider from time to time. For any queries on charges for internet access, you should contact your telecommunication service provider.
(2) iPhone, iPad and iPod Touch users can download at Apple App Store.
 Android OS users can download at Google Play.
(3) The repayment schedule is for reference only which does not reflect the actual repayment process and the allocation of principal and interest.
(4) The Business Mobile Services can be accessed via the network of any local or overseas telecommunications service provider. You can use a 2G, 3G, 4G, HSDPA or Wi-Fi service. However, you must have an internet service plan and device that can support internet access.
 Access to the Internet may also involve set-up procedures on your device for some fixed IP SIM cards. You should check with your telecommunication service provider for details and up-to-date instructions.
 The connection speed may vary for different telecommunication service providers, different internet service plans , and different geographical locations. If you experience a slow response during mobile web browsing or data transmission, please check with your telecommunication service provider.