Live Chat is an online messaging service connecting you to our customer service officers over instant messages. Once connected, customer service officer will provide assistance to resolve your general enquiries in relation to selected commercial banking products and services, and help you navigate our commercial banking website in a convenient and efficient way. This service is available for 7 days a week, 24 hours a day.
Scope of Services
Live Chat
| | |
| --- | --- |
| | Live Chat service allows you to connect with our customer service officers to solve your enquiries in real time 24 X 7.; |
| | Live Chat service is available now on our commercial banking website, Business e-Banking and Business Mobile App.   |
| | We are able to serve you now on selected Commercial Banking services and products:   |
|   | • Business Account Opening and Service |
|   | • SME Financing Guarantee Scheme |
|   | • Business Loan |
|   | • Remittance |
|   | • Commercial Cards |
|   | • Time Deposit |
|   | • Business e-Banking |
Live Share
| | |
| --- | --- |
| | Live Share allows you to share your screen securely with our customer service officers and provide guidance on navigating our Business website together instantly. |
What are the benefits?
Instant support
Chat to a staff online when you have a query
24 x 7 Service
Live Chat service is available 7 days a week, 24 hours a day
Easy to use
There is no setup required – just follow a few steps and start to chat with our customer service officers  
Share the problem you see
As showing something is easier than explaining. Live Share makes it easy to instantly resolve your problems

How do I use the service?
If our system anticipates that a customer is having difficulty when navigating selected commercial banking webpages, a chat invite will be prompted to offer instant assistance. When our customer service officers are available, a visible tab is also displayed at the side of the screen. Just follow the steps below to enjoy the new service:
Live Chat on Website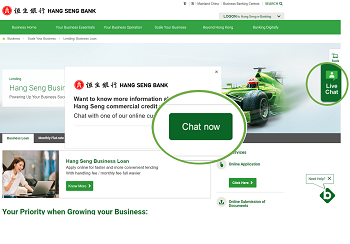 Step 1
Click "Chat Now" when the invitation box is prompted out or click on the "Live Chat" tab on the right hand side of the screen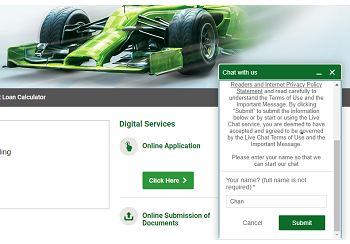 Step 2
Enter your name in the dialogue box and click "Submit"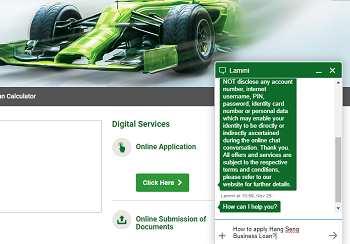 Step 3
You can start to chat by typing your questions in the chat box and pressing "Send". When necessary, you can request our customer service officer to activate the Live Share service with you in the chat box.
Live Chat on Mobile App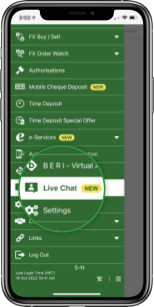 Step 1
Tap "Live Chat" from the side menu after logging in to the Hang Seng Business Mobile App. Please ensure that Mobile Security Key has been enabled before using Live Chat.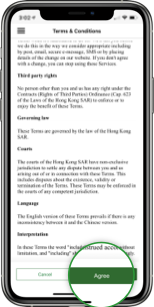 Step 2
Scroll down to read the Terms & Conditions carefully, then tap "Agree". Enabled "Allow Notifications" in device settings to receive notifications when our Customer Service Representatives respond.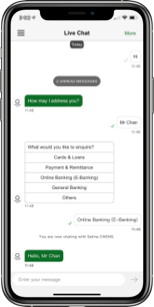 Step 3
You can now start the conversation with our Customer Service Representatives on Live Chat.
Our customer service officer will never ask you to disclose any account number, internet username, PIN, password, Identity card number or personal data which may enable your identity to be directly or indirectly ascertained during the online chat conversation.