Live Chat is an online messaging service connecting you to our customer service officers over instant messages. Once connected, customer service officer will provide assistance to resolve your general enquiries in relation to selected commercial banking products and services, and help you navigate our commercial banking website in a convenient and efficient way. This service is available for 7 days a week, 24 hours a day.
Scope of Services
Live Chat
| | |
| --- | --- |
| | Live Chat service allows you to connect with our customer service officers to solve your enquiries in real time 24 X 7.; |
| | We are able to serve you now on selected Commercial Banking services and products:   |
|   | • Business Account Opening and Service |
|   | • SME Financing Guarantee Scheme |
|   | • Business Loan |
|   | • Remittance |
|   | • Commercial Cards |
|   | • Time Deposit |
|   | • Business e-Banking |
Live Share
| | |
| --- | --- |
| | Live Share allows you to share your screen securely with our customer service officers and provide guidance on navigating our Business website together instantly. |
What are the benefits?
Instant support
Chat to a staff online when you have a query
24 x 7 Service
Live Chat service is available 7 days a week, 24 hours a day
Easy to use
There is no setup required – just follow a few steps and start to chat with our customer service officers  
Share the problem you see
As showing something is easier than explaining. Live Share makes it easy to instantly resolve your problems

How do I use the service?
If our system anticipates that a customer is having difficulty when navigating selected commercial banking webpages, a chat invite will be prompted to offer instant assistance. When our customer service officers are available, a visible tab is also displayed at the side of the screen. Just follow the steps below to enjoy the new service: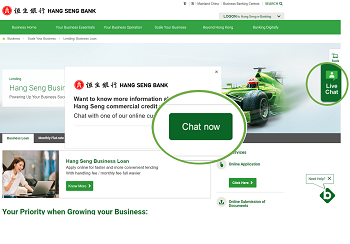 Step 1
Click "Chat Now" when the invitation box is prompted out or click on the "Live Chat" tab on the right hand side of the screen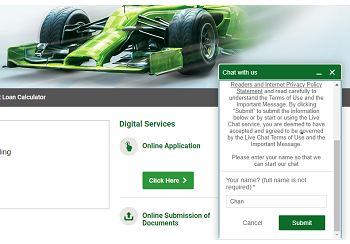 Step 2
Enter your name in the dialogue box and click "Submit"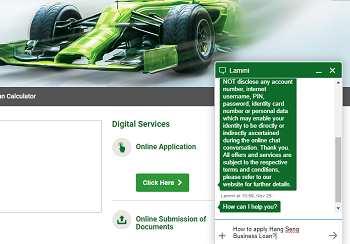 Step 3
You can start to chat by typing your questions in the chat box and pressing "Send". When necessary, you can request our customer service officer to activate the Live Share service with you in the chat box.
Frequently Asked Questions
"Live Chat" is a service on Hang Seng Commercial website that allows you instantly messaging to communicate with us. Whether you need help in managing your accounts, or are curious about our general Commercial products, or have general inquires about designated accounts, transactions or applications, you can now chat with us in real time. However, the information provided is not intended to provide professional investment, insurance or other advice. And any enquiries related to investment and insurance product are not supported by Live Chat.
We know you might have questions while using our online services. The Live Chat service helps you get answers and guidance right when you need it.
Live Chat will only be triggered when our customer service officer is available and our system anticipates that you are having difficulties when navigating selected commercial banking webpages. It may not prompt every time you visit our website.
The Live Chat feature will appear on selected commercial banking services and products webpages listed below on Hang Seng's Commercial Banking and Hang Seng Business e-Banking websites. On those pages, you'll be able to see the Green Live Chat icon on the right edge of your browser. Just click on the icon and a chat window will pop up immediately.
Business Account Opening and Service
SME Financing Guarantee Scheme
Business Loan
Remittance
Commercial Cards
Time Deposit
Business e-Banking
We will gradually roll out more services / online product applications. The bank will modify the selected online services from time to time on customers' needs observed.
No, Hang Seng will not ask you to disclose any sensitive personal or account information such as account number, internet username, PIN, password, identity card number or personal data in its full or partial form while we interact with you via Live Chat. If the disclosure of more detailed personal or account information is required to assist you with your enquiry, Hang Seng will contact you via other means such as over the telephone. Please avoid disclosing any account or personal information when using Live Chat. If you have, in any case, disclosed your personal information when using Live Chat, the information will be masked and presented in its partial form in the view of our customer service officer for the sake of privacy. Before you start using Live Chat service, please click on the Live Chat Terms of Use and our Important Message to Readers and Internet Privacy Policy Statement (which incorporates our Notice to Customers and Other Individuals relating to the Personal Data (Privacy) Ordinance) and read carefully to understand them.
Click the "+" at the bottom left corner of the chat window. You can click "Email transcript" to submit email address if you want to send the current conversation to any designated email. You can also click "Print transcript" if you are on desktop device.
Click the "X" at the top right corner of the chat window to end your chat.
We will view only Hang Seng's webpages that you open during the Live Share session.
Yes, you will be in control of your computer screen throughout the Live Share session and you can terminate the Live Share session at any time by clicking on the "X" icon on your Live Share frame or closing the browser.
During the Live Share session, our customer service officer will not be able to input any values or click on any button on your computer screen. Further, during the Live Share session, our customer service officer can only scroll your computer screen up and down, left and right, highlight a text on your computer screen, and point the mouse-over menu on your behalf on your computer screen.
If you prefer to call us for enquiry, you may simply end the chat by clicking the "close chat" button at the top right hand corner anytime you like. And if you need further assistance, please call:
24-hour Business Partner Direct
Hong Kong: (852) 2198 8000
Mainland Toll-free#: 4001 20 8288
# 24-hour Business Partner Direct - Mainland (Toll-free) allows you to contact us for free even when staying in Mainland China. This hotline is applicable to general enquiries on commercial banking services only, but not enquiries/transactions of investment related matters. The toll-free hotline can be accessed from mobile lines, fixed telephone lines, payphones and call cards. Please note that Hang Seng Bank Limited (the "Bank") assumes no responsibilities for charges by any phone/telecommunications service providers, as well as all claims, disputes and complaints in relation thereto.
We want to know your feedback on Live Chat experience so we can keep improving the service. The survey is anonymous.
To borrow or not to borrow? Borrow only if you can repay! 

Our customer service officer will never ask you to disclose any account number, internet username, PIN, password, Identity card number or personal data which may enable your identity to be directly or indirectly ascertained during the online chat conversation.