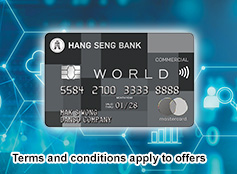 Settle business expenses with Commercial World Mastercard to enjoy up to 2.8% rebate
Unlimited Rebate. No registration required !
Know more
How to apply?
Get HKD Commercial World Mastercard and unlock multiple e-Commerce Privileges for Your Business
Complete and submit the application form via mail or choose to walk in to Hang Seng Banking Centre or any of our branches with the necessary document(s).
HKD Commercial World Mastercard
Manage your business expenses with HKD Commercial World Mastercard and get the flexibility you need for convenient on-the-go payment. It's the card that allows you to simplify your business travel needs, provides you superior privileges and comprehensive protection while enjoying world class advantages.
Highlight
Exclusive offers
Exclusive offers are available while enjoying spending spree
Comprehensive protection
E-commerce and Liability Waiver Protection provide you with greater sense of security
Expense management
Streamline account reconciliation with the use of expense management platform
Superior Privileges
Series of members privileges and services for enjoyment